Hey guys...I dunno why I didn't post here sooner =P But anyway this is my last attempt to get orders before i come up this weekend and stuff. I have made gift tags but no pics yet - I'll have that tomorrow. Thanks!

First let me aologize for the not so pretty pictures. I was in a rush while making them (due to the bus Holiday season) and in a rush to get the pictures. I am not done with making cards yet. I am still in the process of making Hannukah cards as well as making Gift Tags. Hopefully those will be up by the end of the week...

In any case, the cards will come with Envelopes this time, but you can request te baggies if you'd like. I just think the envelopes are a little more formal looking. But the baggies are still fun. As per usual, the size of the cards can be adjusted. The default size is 5.5in X4.25 in. While I list the possible changes available beneath each card, the possibilities stretch beyond that - those are just things I've thought of. And as always, alterations may increase or decrease the price. Please feel free to contact me if you are interested in an original card creation.

*** For Davis buyers I will be in Davis from late night Dec 15-lunchtime Dec. 17. I can meet with you within those days if you would like to purchase a card. OR I can also mail it to you.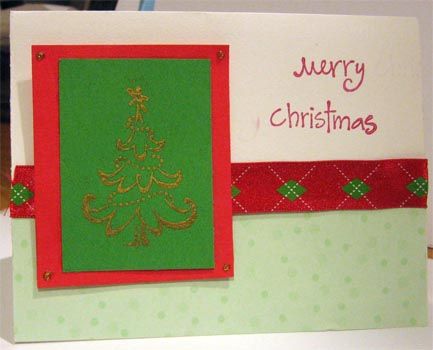 1- Merry X-mas
- Approx $3.50
- Gold X-mas tree is an embossed stamp
- The part with the tree and the red border pop-up for a 3d effect. 
- The borders are accented w/ gold puffy paint
Alterations:
- Pattern on the lower half of the card can be slightly different
- Color of lower half of the card can be slightly different
- Greeting can be changed ( I have 2 "Happy Holidays" Stamps)
- Greeting can be made via embossed letteres (depending on paper I can scuff it so it would be white against a dark color) and pop up for 3D effect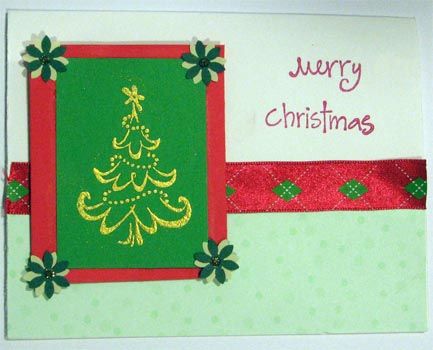 1- Merry X-mas B
- Approx $3.50
- Same as above only with dark green w/ pale green cutouts W/ gold puffy paint centers
- Same alternatives as above





1- Merry X-mas C
- Approx $3.50
- Same as above only with dark green w/ white cutouts w/ gold puffy paint centers
- Same alternatives as above





1- Merry X-mas D
- Approx $3.50
- Same as above only with bright green w/ white cutouts w/ gold puffy paint centers
- Same alternatives as above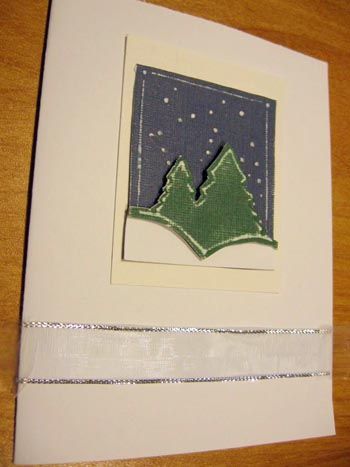 2-Winter Night A
- Approx $3.75
- Embossed and scuffed trees and snow. The trees pop up for 3D effect
- Embossed w/ textured Paper
Alterations:
- Can add a tag
- Can add a greeting
- Greeting can be a stamp (Happy Holidays, Merry Christmas)
- Greeting can be handwritten
- Greeting can be embossed (and possibly scuffed for contrast) and then popped up for 3D effect
- Color of ribbon (see below)
Winter Night B

Winter Night C

3 - Holiday Present
-Approx $3.75
- Present is an embossed stamp
Alterations:
- Color of stamp
- No embossing
- No beads
- Change color of beads
- add a Greeting
- Greteing can be a stamp (Happy Holidays or Merry Christmas)
- Greeting can be hand written
- Greeting can be embossed on paper for contrast





4-Let It Snow
- $3.75
- Snowman pops up for 3D effect
- Snow is embossed and scuffed on Textured Cardstock
- Silver Snowflakes at the bottom are embossed stamps
Alterations:
- Color of cap and scarf
- No embossing & scuffing - instead: stamped silver snowflakes or simple white dots
- Change greeting
- Change writing style of Greeting
- Make greeting a stamp (Merry Christmas or Happy Holidays)
- Make greeting embossed and scuffed on paper and pop up for 3D effect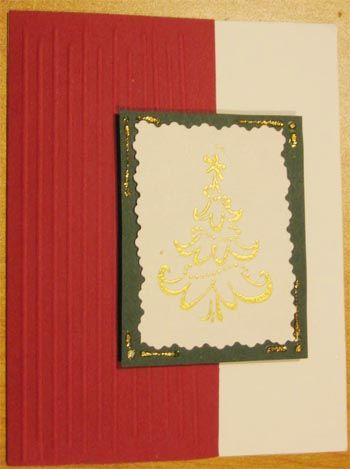 "5- X-mas Tree A1 and 2
- Approx $3.50
- Tree is gold embossed stamp
-Tree BG is dark green w/ gold puffy paint
- L. Side BG is dark cranberry-ish and embossed but not scuffed
Alterations:
- different bg color
- Different Left side BG color
- different slant (see below)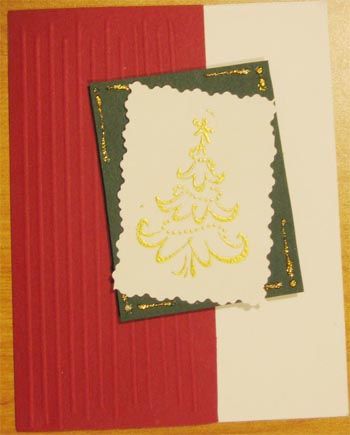 "6- X-mas Tree A1 and 2
-Approx $3.50
-Same as #5- X-mas Tree A 1 & @ however the main L. BG is a littler redder, embossed AND scuffed
- Same alterations as above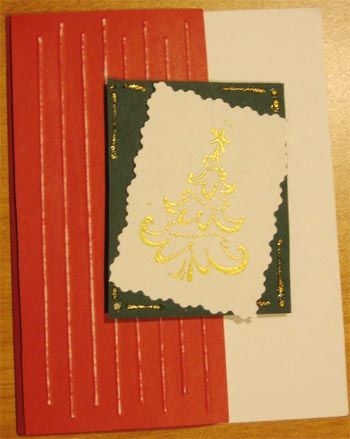 7-Peace
- Approx $3.50
- This is a window card that peers into the Embossed Stamp "Peace" w/ falling snow
Alterations:
- Color of Stamp
- Color of Window border
- Color of flowers
- No tag
- Color and type of ribbon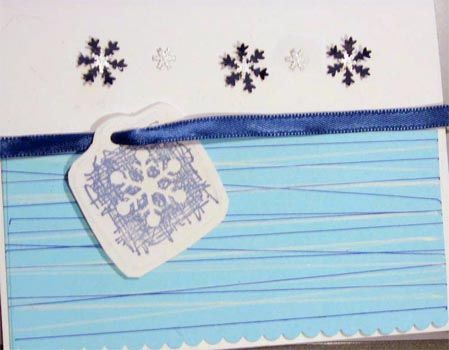 8 -Snowflake Tag
-Approx $3.50
- Tag borders are embossed
- Small snowflakes are silver
- The lower 1/2 of card (the blue prat) will actually expand to length of card
Alterations:
- Color and type of ribbon (sheer, light blue w/ silver broders, dark blue with silver swirls, etc)
- Color of lower bg
- Color of Snowflakes
- Add eyelet (to center of large snowflake and/or smaler snowflake) - see card below for examples
- Add snap " "
- Add brad " "
- Emboss Snowflake Stamp (ie gold, silver, blue, etc)




9- Snowflake Diamonds
- Approx $3.50
- While there are holes in the center of the snowflakes in the above pic it is only so I could use them for other pics... if you choose this specific version, it will not have holes)
- Bottom BG will extend to length of card.
Alterations:
- Type of ribbon (see previous card for list)
- Color of BG
- Style of BG
-Add eyelets - see below (choose from the colors - in order from L-> R: dark blue, blue, gold, antique, same blue as stamp, silver - not shown)


- Add snaps - see below (choose from copper, silver, Antique)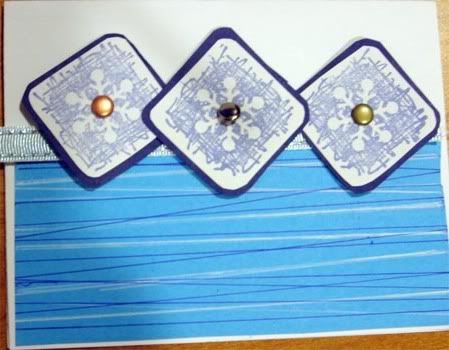 - Add brads - see below (choose from small silver, medium copper, medium antique)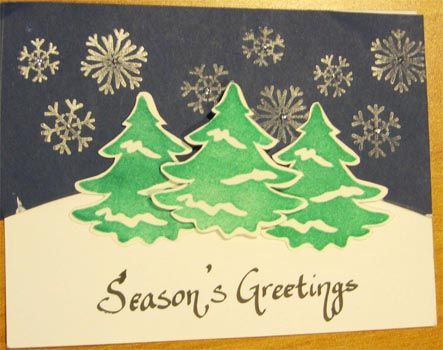 10 - Season's Greetings A
- Approx $3.50
- Middle Tree pops up for 3D effect and centers of silver snowflakes are silver puffy paint dots.
Alterations:
- Tree stamps can be embossed
- Snwoflake stamps can be embossed
- Greeting font can be changed
- Greeting can be changed
- Greeting can be stamped (Happy HOlidays or Merry Christmas)
- Greting can be embossed and possibly scuffed





10 - Season's Greetings B
- Approx $3.50
- Same as above however the bg is white dots instead
Alterations are similar as above





11- No name
- Approx $3.50
-Not particularly proud of this card but feel free to consider aspects of it for commissions or to replace aspects of other existing cards